Wojciech Jurkiewicz
Wojciech Jurkiewicz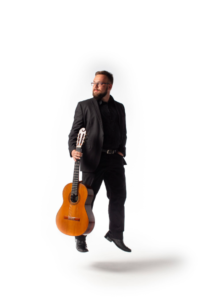 Wojciech Jurkiewicz – born in 1991, one of founding members of Erlendis Quartet. He graduated from Ignacy Jan Paderewski Music Academy in Poznań with Master Degree in solo performance at Łukasz Kuropaczewskis class. Before he completed his Bachelor studies with prof. Piotr Zaleski and Tomasz Kandulski. One of founding members of Erlendis Quartet. Apart from solo studies in 2017 he completed the postgraduate program in chamber music at the Royal Danish Academy of Music in Copenhagen (Denmark), as a member of Erlendis Quartet, studying with prof. Jesper Sivebaek and prof. Tim Frederiksen.
Musical career started early for him, at the age of eight, back in his hometown – Zielona Góra ­ where he was studying with his first guitar teacher, Hanna Kowalik. Since then he has been awarded at several guitar competitions both nationwide and international. Already as primary school student he became a prizewinner at thirteen guitar competitions. In 2014 he won in International Music Competition in Musile di Piave, Italy. His achievements have been recognized and awarded with scholarships founded by President of Zielona Góra (repeatedly), Marshall of Lubuskie Voivodeship, and even by Polish Ministry of Higher Education. As a member of Erlendis Quartet he managed to collect an impressive harvest of prizes at international chamber music competitions, including 1st prize and Audience Award at Aschaffenburg (Germany), 1st prize in International Ensemble Artist Competition by the GFA in Fullerton (USA), 1st prize in Chamber Music Competition by P2 DR in Copenhagen (Denmark) and many more.
As a guitarist he made appearances in Poland, Denmark, USA, Canada, Ireland, Spain, Germany, Latvia, Ukraine, Italy and the Netherlands. He also had performed with philharmonic orchestras both in and outside Poland. He had been invited to work as a jury member in several music competitions in Poland and the USA. Wojciech complemented his education by participating individually in masterclasses conducted by widely recognized musicians e.g. David Russell (UK), Pepe Romero (USA), Marcin Dylla (Poland), William Kanengiser (USA), and cellist ­ prof. Andrzej Bauer (Poland). Wojciech is fulfilling as well as a teacher (in several schools in Rzeszów area in Poland), and co organizer of artistic events (International Guitar Festival in Zielona Góra). He recorded his repertoire several times for TV and radio stations. He is a board member of Lubuskie Guitar Society.
Op zondag 2 februari 2020 treedt Wojciech als lid van het Erlendis Quartet op in de kerk van Mook.