Adrian Furmankiewicz
Adrian Furmankiewicz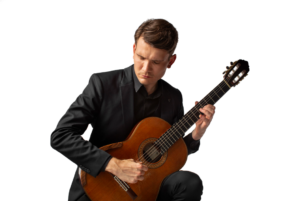 Adrian Furmankiewicz is born in 1992, in Pleszew. He started learning classical guitar at the age of 7 in the State Music School in Pleszew with Waldemar Hartwig. In the space of years 2005-2011 he studied guitar with Jarosław Kocoń in the Krzysztof Komeda -Trzciński Music School in Ostrów Wielkopolski. In 2016 he graduated from the I. J. Paderewski Academy of Music in Poznań where he was under the tutelage of prof. Piotr Zaleski and dr Łukasz Kuropaczewski. Adrian Furmankiewicz completed his Postgraduate Diploma in chamber music as a member of Erlendis Quartet in the Royal Danish Academy of Music in Copenhagen. His teachers were prof. Tim Frederiksen and prof. Jesper Sivebaek. 
Adrian Furmankiewicz took part in many festivals and competitions. During them he had several dozens of masterclasses with virtuosos from all over the world such as: Manuel Barrueco, Aniello Desiderio, Marcin Dylla, Petrit Ceku, Zoran Dukić. He is the prizewinner of over 30 solo and ensemble competitions, not only in Poland, but also on international stage. As a member of Erlendis Quartet he got prizes on many international chamber music competitions, including 1st prize and Audience Award in Chamber Music Competition in Aschaffenburg, 1st. prize in Chamber Music Competition organized by Danish Radio Programme no.2 and Guitar Foundation of America Competition in Fullerton, California, silver medal in Chamber Music Competition in Vienna (2019). 
In 2014 The Minister of Science and Higher Education granted him the scholarship for artistic achievements. Adrian was also awarded by the National Fund for Children, the Minister of Culture "Young Poland Scholarship" (2012), the Prime Minister of Poland and three times by the President of Ostrów Wielkopolski Radosław Torzyński: "Young Artist 2007, 2008, 2010".  The guitarist took part in the semifinal of the prestigious competition "The Young Musician of the Year 2009" in Warsaw, organised by National Television and The Ministry of Culture. Within the scope of the support of the National Fund for Children he had a possibility to give a concert in Łazienki Królewskie and Zamek Królewski.

Nowadays, Adrian works as a teacher in music schools in Poland. He gives masterclasses during guitar competitions in Poland and serves on the juries of Polish and international guitar and chamber music competitions, for instance GFA 2018 in Louisville, Kentucky.  
Op zondag 2 februari 2020 treedt Adrian als lid van het Erlendis Quartet op in de kerk van Mook.