Sofia Raichenko
Sofia Raichenko
Sofia Raichenko was born in Kyiv, Ukraine.
At the age of 6 she took piano and singing lessons and soon she won numerous competitions in Ukraine and in Europe,
After graduating at the age of 14, Sofia studied at the Kyiv Institute of Music. While studying there she won the Prokofiev competition and the Bortniansky chamber music competitio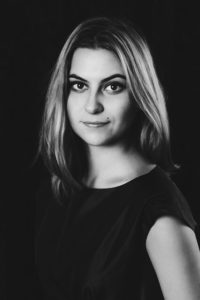 n. Also she performed as a soloist and chamber musician in Poland, at the Kyiv
National Opera House, with the Kyiv Philharmonic and in the Conservatorium. She graduated cum laude.
In 2011 Sofia started studying at the Tchaikovsky Academy tutorship with Yuri Kot. She toured in Eastern and Central parts of Ukraine and took part in many master-classes.
In 2013 Sofia entered the Maastricht Conservatorium and at present studies there with Katia Veekmans.
In September 2014 Sofia performed at the International competition Vincenzo Scaramuzza as a member of Duo Agitato, where she was awarded the first prize. In 2015 she participated in the "Freedom" chamber music festival in Maastricht as member of the Malevich piano quintet, which then won a concert tour in China.
As a member of chamber ensembles Sofia took part in master classes of the Academia Chigiana in Siena, Italy and the competition "Who's next" in Almere. She also had lessons with Michael Kugel, Henk Guittart, Bruno Giuranna, Lilya Zilberstein and Jean-Bernard Pommier. In 2016 she was a finalist at the Storioni Trio Competition and became the first prize winner of the Music Awards Maastricht. As a member of Malevich Piano Quartet Sofia performed on the festivals in France such as: "Clef de la Cite", "Piano Prestige", "Pianoscope".
Sofia treedt op 24 september 2017 met het Malevich Piano Quartet op in de kerk van Mook